★
We Want That Girl, sing it !
diamonds, daisies, snowflakes, That Girl
chestnuts, rainbows, springtime… Is That Girl
She's tinsel on a tree…
She's everything that every girl should be ! That Girl
Me, the chosen one. College Grad, living the dream

Not so fast miss girly pants, walk this way. Clickety clack, clickety clack, screech. Care for a tissue ? good, you'll need it. Our bad, it's not tissue with lotion, it's not in the budget and either are you. Wah, give me the tissue cheap bastard. Six months, a dream and a notch in my belt. I dragged my sorry arse back to the lean streets.
What now, That Girl ?  more singing of course:
Desperate but not serious,
your kisses drive me delirious – Adam Ant
Ok, so I was desperate, it was quite serious and yes there was that guy that made me delirious.
Lugging my designer portfolio around from rejection to self-pity gave me great strength. Not of character, of muscle. You should've seen my arms. That thing weighed like twenty pounds.
💃🏻
Designer Bossy Pants Steps Up
Nice to meet you, you must be the designer. "Yes, I'm That Girl."
Little did I know that being That Girl also meant, that creative director, that graphic designer, that print coordinator, that production artist, that meet with the clients and wear your big girl pants. Should've rebranded the place and named it: That Girl Designs, Inc.
Clients took notice. I guess I looked good wearin' them bossy pants, so shiny. They were naughty tho. Not the pants, the clients. We hooked up in the back alley and got naughty together. Me designing their logos and brand identity packages, and them giving me money. I was an entrepreneur in the making.
Boo-hoo, "That Girl Designs, Inc." was purchased, and once again I was left to the lean streets. Not quite as lean this time around. Thankfully I had a few clients. But it wasn't enough to feed Kiwee Kitty, the designer cat, mew.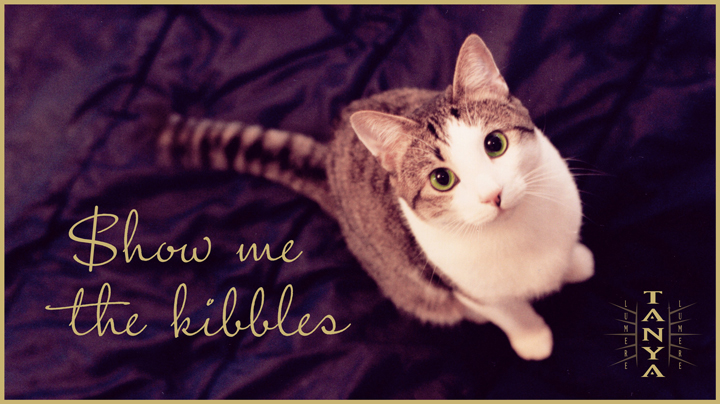 In order to get Kiwee off my back and my front, what a horn dog, woof, I had to let the fur fly. I worked at two editorial magazines, two printing companies, and with the two design firms (yes, that six months counts). It seems two's the magic number. It's kismet I say.
🔑 Come Closer & I'll Tell Ya A Secret
The design firms, the magazines, and the printing companies had a hold of me. When time was up, they kicked me to the curb, and it hurt, Mew !
Sing 'Soft Kitty' to me:
Soft kitty, Warm kitty, Little ball of fur.
Happy kitty, Sleepy kitty, purr purr purr
Branding, Design & Marketing Saves The Day
It became oh so clear. If I worked part time at a company, I'd have time to acquire clients, get the work done and feed Kiwee Kitty. That way, if a business jumped ship, I could stay afloat. All Aboard, your ship's come in.
☕️ Work, Wurk + More Werk
I continued pounding the pavement acquiring clients one victim at a time, ha. Worked my mad skills, designed award winning logos and corporate identity packages. But it wasn't enough.
They begged for more. Hey, I'm here to help, so I stocked up on coffee and designed their newsletters, brochures, annual reports and advertising.
It still wasn't enough. They were absorbed like ink on paper. So I did the most logical thing I could. I bought more coffee, ordered pizza and got to work. Here's a partial list o' Clients that paid for my coffee:
• Armstrong & Associates | logo design, corporate identity
• Alzheimer's Services | publications
• Bayer Pharmaceuticals | event invitations, booklets, programs
• Bayshore Properties | logo design, corporate identity, brochure
• Bentley School | annual report
• Beulah Heights | logo design, corporate identity
• Butler Computer Systems | logo design, corporate identity, packaging
• Casa Sandoval | marketing collateral material, advertising
• Cerebral Palsy Center | anniversary book
• Chabot Space & Science Center | booklets, brochures, newsletters
• Cornerstone | logo design, corporate identity
• Crossroads of Danville | logo design, corporate identity, signage
• Direct Interfaces Corp. | logo design, corporate identity
• Ecole Bilingue de Berkeley | annual reports
• Gemini Planners | logo design, corporate identity
• Grand Golden Barristers | logo design, corporate identity
• Heatherwood Assisted Living | logo design, corporate identity, brochure
• Marin Primary & Middle School | logo design, corporate identity,
• annual reports, newsletters, marketing collateral material
• Lesher Center for the Arts | event programs, posters, advertising
• Mercury Software Systems | logo design, corporate identity
• Ramona Care Home | logo design, corporate identity, brochure
• Saint Mary's College | marketing collateral material
• The Comstock Inn | logo design, corporate identity
• The Martin Group | logo design, corporate identity
• Tri-Valley Conservancy | logo design, corporate identity,
• newsletters, brochures, marketing collateral material
• Vogel Appraisal | logo design, corporate identity
🍭 Spot Colors / Pantone / CMYK
If there was ink and an idea, they wanted me. They wanted my time and my designer mind. All rushing thru the finish line, like mad dogs in heat, EW!
It was the pre hashtag era, but that didn't stop 'em. They got #craycray and began foaming at the mouth. They wanted it now and they wanted it fast.
So I bought more coffee, ordered more pizza and got some peanut m&m's. The yellow ones keep ya goin'. I stocked up for all nighters. Not the fun, gigglelicious pee in your pants and laugh till it hurts all nighters. I'm talkin' about the, grind your teeth, layout pages, tweak fonts, contemplate colors and run to FedEx all nighters, double EW!
Enough I said. Stop the presses I need to brush my teeth. And that was that. I collected my money, hoarded my awards and headed for glossier screens.
📝 Got Down & Dirty & Super Nerdy
Packing my swatch books and moving online was no day at the beach. It's more like many months, ok ya got me, years, deep inside the entrepreneurial cave nerding away.
Along my bumpy online journey, I've learned a whole lot about content marketing, website design and development, social media images and what it takes to be a footloose and fancy-free digital entrepreneur.
Proof's in zee pudding. With passion, dedication, sweat and many tears, I get verklempt just thinking about it, I'm so giddy to be here with you at last. Everything on my site, I've designed and created, including the poor grammar, thankyouverymuch.
★ No Fear, Fancy Pants is Here
I've got the experience, the designer business cards, the know-what and the know-how to save you time, get your branding + design + marketing  in fancy pants order, and make ya smell good too. So fresh.
💃🏻 Tidbits o' Tanya
❥

 Are you a dog, squirrel or cat purrson ?
OK, you got this one. Hello Kitty, meow.
❥

A little bit country or rock n roll ?
Madonna. Does that answer your Q ?
❥

Why do you put a space before a ? ?
Because I'm a kern nerd. I don't like it all squished up here, sad kitty, mew.
❥

How can I become a kern nerd ?
Stick around and I'll show ya.
❥

Do you have a guilty tv pleasure ?
Real Housewives of NY, BH and the OC, and yes, in that order.
❥

What makes you cray cray ?
Someone wasting my time. I'll waste my time on my own terms, see above.
❥

What won't you put up with ?
Bullies and meanies and motha effers, oh my ! No exceptions, nada and never. Capiche ?!
❥

What will you put up with ?
Q's to help you: design your brand › energize your life.
❥

If you weren't a designer what would you do ?
I'd wear tutus and dance to the beat of my own drum.
Wait I already do that, nice.
★

It's Showtime & You're The Star
Today you are you ! That is truer than true !
There is no one alive who is you-er than you ! – Dr. Seuss

✦
design your brand › energize your fancy pants life

Get your fancyfive prime actions and
prep your brand to become The Luminary
Enter your Name & E-Mail below
↓